Dear Vietnamese compatriots and all of you,
Reportage Welcoming New Year's Eve at Quang Minh Temple Celebrate the Lunar New Year
Afternoon 30 Tet (Saturday, January 21, 2023):
The weather this year 24 degrees is ideal for New Year's Eve celebrations.
When heaven and earth and all things enter a new "period", it seems that humans are also facing a new opportunity.
This year Quang Minh Temple will welcome New Year's Eve like in previous years before the epidemic
At Quang Minh Pagoda, as predicted, we are about to welcome more than 15,000 guests to attend this historic event after 3 years of restriction because of the Covid Pandemic.
This year Quang Minh Tu expanded with the venue around Guan Yin Bodhisattva and all the games were moved out of the temple grounds to create a large space for more than 15,000 people to attend the festival.
Parking for temple visitors at the stadium club "Arrow" next to the temple. which can accommodate 1,000 cars
This year is especially unrestricted like the past 3 years of the Covid pandemic and New Year's Eve on Saturday night on January 21, 2023, and Sunday morning (January 1st) January 22, 2023. Therefore, the number of guests. will be crowded, entertainment game stalls are arranged outside the temple yard.
The most special in the past 30 years that have not been done at the pagoda are the miniature scenes of Vietnamese traditional Tet such as: boat, stork wings, cooking banh chung, apricot branches, countryside scenes, sewing machines, televisions, bicycles, Tet gates. performed by the Temple Welcome team which is attracting a large number of compatriots to visit and take pictures
From 8 a.m. to 10 p.m. : A special music program with 20 singers and dance troupes performing at the venue : the big stage is in charge of Ms. Tuy Hong and the small stage is for the traditional Vietnamese traditional music
From 10 p.m. to 11 p.m. The sacred mask dance of the Bhutanese (UNESCO Cultural Heritage performance with 24 dancers in front of the main hall, was warmly welcomed by attendants .
At 11.10am, the lion dance and dragon dance troupe marched from the entrance gate in front of the main hall and the abbot and the 20 federal and state guests led the way to the main stage to celebrate the festival.
Guests were led to the stage with 2 charming MCs My Phuoc and My Hien introducing guests to attend
Opening ceremony Venerable Thich Phuoc Tan opened the opening ceremony on the meaning of New Year's Eve, thanked the guests, sponsors for attending and the unique Hoi An lantern project of Quang Minh Temple ,
Abbot Thich Phuoc Tan and other guests, in turn, spoke about the meaning of the Lunar New Year.
The Hon Daniel Mulino MP (Federal Member for Fraser)
The Hon Ingrid Stitt MP (Minister for Early Childhood & Pre-Prep & Minister for Environment)
The Hon Natalie Suleyman MP (Minister for Veterans, Minister for Small Business & Minister for Youth)
Mr Trung Luu MLC (Member for Western Metropolitan Region)
Ms Cam Nguyen (President - Australian Vietnamese Women's Association Inc)
Ms. Thanh-Kham Tran-Dang (Former President - Australian Vietnamese Women's Association Inc)
Mr Bruce Mildenhall & Partner (President - Vietnamese Museum Australia)
Cr Sarah Carter (Mayor - Maribyrnong City Council)
Cr. Jorge Jorquera (Councillor - Maribyrnong City Council)
Cr Cuc Lam (Councillor - Maribyrnong City Council)
Cr. Bruce Lancashire (Mayor - Brimbank City Council)
Cr. Jasmine Nguyen (Councillor - Brimbank City Council)
Cr John Sipek (Councillor - Moonee Valley City Council)
Mr Andrew Beans (Senior Sergeant - Footscray Police)
Mr Paul Morgan (Inspector - Footscray Police)
Mr Colin Campbell (Fire Rescue Victoria)
Mr Paul.hopkins (Fire Rescue Victoria)
Mr Ronald Hayward (Fire Rescue Victoria)
Malvina Tsecoutanis (State Emergency Service)
Mr Quang Duy Nguyen (President of Vietnamese Community in Australia – Victoria Chapter)
Dr Kieu Tien Dung (Former Member for South Eastern Metropolitan)
Mr Russell Byard & Mrs Sheila Byard
Ms Rachele Oliver
Ms Vanda Laconese
Dr Minh Lam
Miss Jessie Heysham
Ms Sue King
Mrs Sheila Heysham
Dr Andrew Lam
Shadow Parliamentary Secretary for Multicultural Affairs
Dragon dance, firecrackers last 10 minutes to 12 o'clock on New Year's Eve.
New Year's Eve is a joyful and sacred time. the old year is about to pass and a new year is coming, everyone is waiting for the moment of transfer with a sincere heart, everyone believes that in heaven and earth, there is change and renewal.
After that, all entered the main hall to offer New Year's Eve and the Abbot gave lucky money to all guests.
Spring is coming, I wish all delegates peace, happiness, good health and longevity, happiness and prosperity to enjoy the Maitreya Spring Festival.
Happy New Year, I wish you peace, happiness, prosperity, good health and longevity
Namo Amitabha Buddha.
Doctor Pham Phuc Nhan (Hanh Giac Nghia)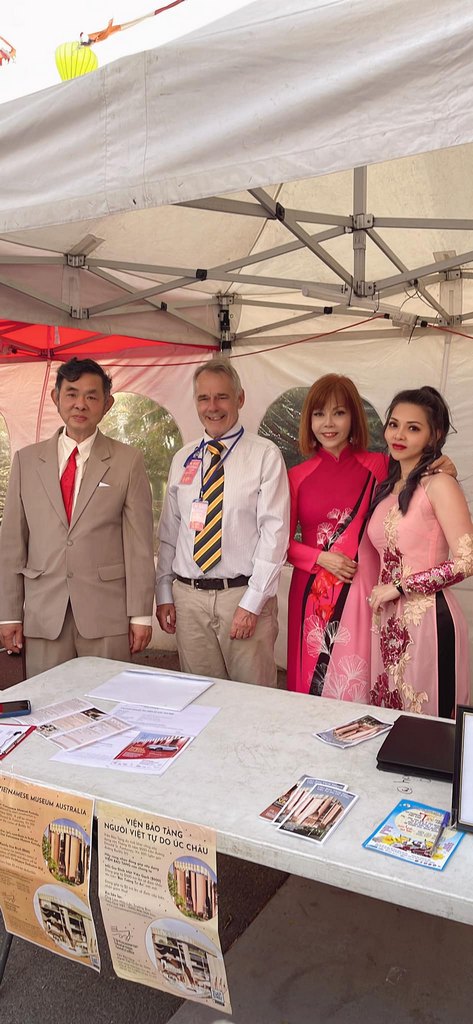 Dear Vietnamese compatriots and all of you,

Every year, Quang Minh Pagoda organizes a very solemn New Year's Eve with more or less 10,000 visitors.
This year is special due to the special situation after 2 years of the Covid  pandemic, and New Year's Eve on Saturday night, January 21, 2023, Sunday morning (1st lunar new year), January 22, 2023.
Therefore, the number of guests will be large,in addition to lion dance, dragon dance, firecrackers, art fireworks, especially Bhutanese Sacred Mask Dancing ( UNESCO  Recognised Cultural Heritage Performance  with 40 dancers in front of the main hall, please arrange a reasonable time to attend.
In the New Year of the Cat I wish all my compatriots peace, happiness, prosperity, good health and longevity
Namo  Amitabha Buddha.

Dr. Pham Phuc Nhan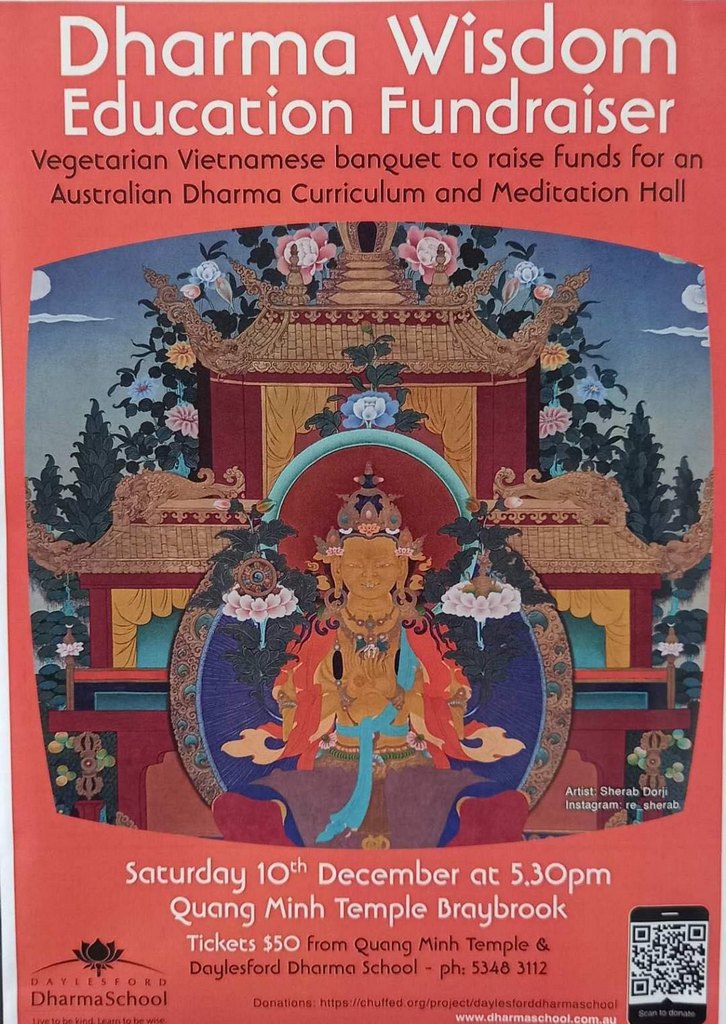 Jubilantly ORGANIZING SPECIAL EVENTS VU LAN FESTIVAL, SPRING Cherry Blossom FESTIVAL -BONSAI FESTIVAL, and OPENING OFINAUGURATION OF Quan The Am open-air courtyard at Quang Minh TEMPLE , COVID-19 VACCINATION DISTRIBUTION OF CELEBRATIONAL GIFTS ON 14/08/ 2022. 
Vu Lan Festival, Cherry Blossom Spring Festival and Inauguration of Quan The Am open-air courtyard at Quang Minh Pagoda on August 14, 2022.
All Buddhists and compatriots are invited at 10 am on August 14, 2022 to come to Quang Minh Pagoda to attend the Vu Lan ceremony, the Cherry Blossom Spring Festival, and at the same time inaugurate the open-air courtyard in front of Bodhisattva Avalokitesvara.
The weather is predicted to be cold and rainy at 12 o'clock on August 14, 2022, but luckily this morning there is no rain, more than 5,000 fellow Buddhists attended these events.
At 10 a.m., the group of monks and nuns gathered from the small main hall and passed through the open-air courtyard in front of the statue of Bodhisattva Avalokitesvara and . The abbot announced the Great Festival of Vu Lan, the Spring Festival of Cherry Blossoms and the opening ceremony of an open-air courtyard of Quan The Am together with Quang Minh Pagoda in collaboration with CO-Health COVID Immunization and souvenir distribution.
Opening 2 talented MCsThu Oanh -Minh Thiet invites Venerable Thich Phuoc Tan to speak the meaning of Vu Lan Festival then the program of Vu Lan Festival, there was a flower offering to the Buddha performed by Buddhist families and the temple's welcome team, there was an opera ancient song about mother's love composed by Venerable Thich Phuoc Thai and the song The hoa hồng cài áo was performed by the choir Tuy Hong ,Nghiem Le. After wearing brooch roses for all attendees.
Dear guests and fellow Buddhists,
Deriving from the story of Venerable Muc Kien Lien with great filial piety who saved his mother from the life of a hungry ghost, Vu Lan is an annual holiday to commemorate the merits of parents (and ancestors in general) - parents. of this life and of previous lives.
Following the Buddha's word, Muc Lien's mother was liberated. Since then, Vu Lan's filial piety festival was born.
Quang Minh Pagoda organizes the Vu Lan Festival to coincide with the Spring Festival. Depending on the time when the Cherry Blossoms bloom, there is rarely a coincidence of these two festivals every year. In addition, the opening of the open-air courtyard Quan The Am Bodhisattva makes a dignified scene and wide aisles for easy traffic and develop pagoda landscapes along the riverbank in the future.
The temple's cherry blossom garden, with nearly 300 peach trees, is in full bloom, creating a joyful and joyful temple scene to welcome the Vu Lan season.
This year, flowers bloomed to welcome the Buddha's messengers after a successful summer retreat (Aussie weather).
The lucky Melbourne compatriots who come to the temple will save thousands of dollars instead of visiting Japan.
At exactly 12 o'clock, the special lion dance led the group of monks and nuns to return to the courtyard of the good Avalokitesvara Bodhisattva, where government officials were waiting for the inauguration ceremony, including Mr. Daniel Molino, federal MP, State Senator r Kieu Tien Dung , Ms. Natalie Suleman MP of the Vic ,Ms. Cuc Lam ... the speech of the Venerable Thich Phuoc Tan and Mr. Daniel Molino expressed the meaning of this great festival then the Mua Xuan Sang Co Hoa Anh Dao 's dance performed. The unique cherry blossoms opened the ceremony to celebrate the open-air courtyard of Guanyin Bodhisattva, then all distinguished guests and monks nuns were invited to cut the ribbon to inaugurate in the sound of firecrackers and lion dances to warm the air and wind. cold this afternoon.
At 12:45 a.m., the ceremony of offering vegetarian food was performed and the guests had lunch imbued with religious love.
It is also worth mentioning that in addition to the 3 events on the temple, the temple also cooperates with Co Health to vaccinate and distribute gifts to fellow Buddhists.
The unique art halls with over 500 guests attending, the dining room with changed many times of 300 guests with many meals, the courtyard full of guests enjoying cherry blossom photography, a fun and joyful atmosphere until nearly 3 pm,
The Victoria Bonsi 's Association also has very nice presentation booths for fellow countrymen to enjoy.
After the Vu Lan ceremony on Dai Hung Bao Dien Hall , on behalf of the organizers, Venerable Thich Phuoc Thai thanked all the all monks, nuns and guests, pagoda associations and individuals who contributed to the ceremony and the successful events.
We all pray merritt and dedication to all sentient beings in the buddha path.
Sincerely yours,
Namo Amitabha Buddha.
Doctor Pham Phuc Nhan