Dear Friends,

Through the appeal of Venerable Thich Phuoc Tan of Quang Minh 's temple in March, hundreds of benefactors representing the Vietnamese community came to Quang Minh pagoda as well as straight to the hospital.have donated  200,000 dollars including 120,000 masks, 50,000 gloves, 5,000 masks, 2,000 operating gowns, and 3,000 dollars and hundreds of lunches have been donated to western Melbourne hospitals.

When the second pandemic has broken out,in Melbourne we called for a second donation of a mask to all comunity, we now know that our compatriots in Melbourne are carrying out about 25,000 reused sewing masks and are distributing to all the people in need throughout the subcommittee in Melbourne.. .
Particularly compatriots in other subcommittees and in Vietnam also sent 40,000 masks and surgery to Melbourne.
and according to the list below, has been distributed to all unions, pagodas and churches in the last 24 hours.
Sincerely thank the volunteers who have actively worked in the past 2 days.

This week, there will be an additional 40,000 masks from Vietnam , we will be distributing the second  log (there will be announcements when we get them)
Please register in advance and we will arrange for distribution at Quang Minh Pagoda.
First of all, we would like to ask your need to put on the waiting list so that we can arrange for a reasonable distribution by email address or phone number of Quang Minh pagoda 93125729.
Doctor Nhan: 0411505948.
Thanks.
Kind regards,


Ladies and Gentlemen,
After calling Mask for Melbourne we would like to report to you all the following results:
Thank you for your sincere contribution to the sponsors:
1/ Gia đình Anh Cử , Chị Hoa ,Cháu Ngoc: 20,000 masks trong số 50,000 masks.
2/ Thầy Hoằng Kiện và nhóm phật tử Việt nam: 19,000 masks trong số 30,000 masks.
3/ Bác sĩ Nhân – Thư: 3,000 dollars.
4/ Chị Hoang Phương Thảo: 3,000 dollars.
5/ Chi Lâm Minh Hoa: 6,000 dollars.
6/ Nhóm Chị Kim Thanh: 3,000 dollars.
7/ Nhóm Chị Huỳnh Phượng: 25,000 masks.
8/ Chị Cao Thị Mỹ: 10,000 masks.
9/ Lê Ngọc Điệp: 200 dollars
10/Nhóm Nguyễn Hương, Rose Hùynh, Rose Huỳnh, Thúy Trần, Nichau: 2,500 mask 11/ Rất nhiều vị ẩn danh
The distribution of first round to pre-booked recipient:
1/ Ông Trương Lợi 2,000 masks.
2/ Thiên Giang 1,000 masks.
3/ Chùa Phước Huệ 1,000 masksvà 20 facial shields.
4/ Thiên Giang 1,000 masks.
5/ Hội Golf Victoria 3,000 masks.
6/ Phượng Vĩ 5,000 masks.
7/ Chi Vân anh Tài 1,000 masks.
8/ Văn phòng các bác sĩ 2,000 masks
9/ Nguyen Nhung 1,000 masks.
10/ Các Hôi đòan Chùa, nhà Thờ 20,000 masks
How to make a mask to wear during the coronavirus pandemic as Victoria battles to contain COVID-19 outbreak
Authorities have told residents of Metropolitan Melbourne and Mitchell Shire that if they can't keep 1.5 metres from people in the coming weeks, they should wear a mask.
Premier Daniel Andrews has also flagged that when the six-week lockdown ends, wearing masks will remain an "important feature" in Victoria's response to the pandemic.
Store-bought cloth or surgical masks are an option but there is also the satisfaction which can come from making your own.
So, how do you do that? Here are some tips.
Coronavirus live news: Follow all the latest information in our blog.
What equipment do I need to make a mask?
Some material — cotton is preferable and make sure there is enough to create several layers about 25cm x 15cm each
The Victorian Government recommends three pieces of fabric: water resistant for the outer layer, blended for the middle layer, and a water absorbing cotton fabric for the inner layer
A sewing machine. Or a needle and thread if you've got the time and skills
Some elastic, or extra material for ties to keep the mask in place
Patience
Now, how do I actually make it?
Victoria's Department of Health and Human Services (DHHS) has instructions on how to make masks here, and recommends you follow this process:
1.Cut out three different layers of fabric (see recommended fabric types above) in 25x15cm rectangles
2.Stack them neatly in the correct order and fold down one edge of the long side of fabric to create a seam of 1cm
3.Stitch down the folded long side. Repeat step two and three for the opposite edge on the long side
4.Fold the short sides over to create a seam and stitch that way too (make sure there's room to thread your elastic or ties through)
5.Run your elastic or fabric tie through the hem you've created
6.Knot the ends of your elastic tightly
Victorian Premier Daniel Andrews has asked Melburnians to wear masks in public when they can't social distance, in a major shift in health policy in the state and across Australia.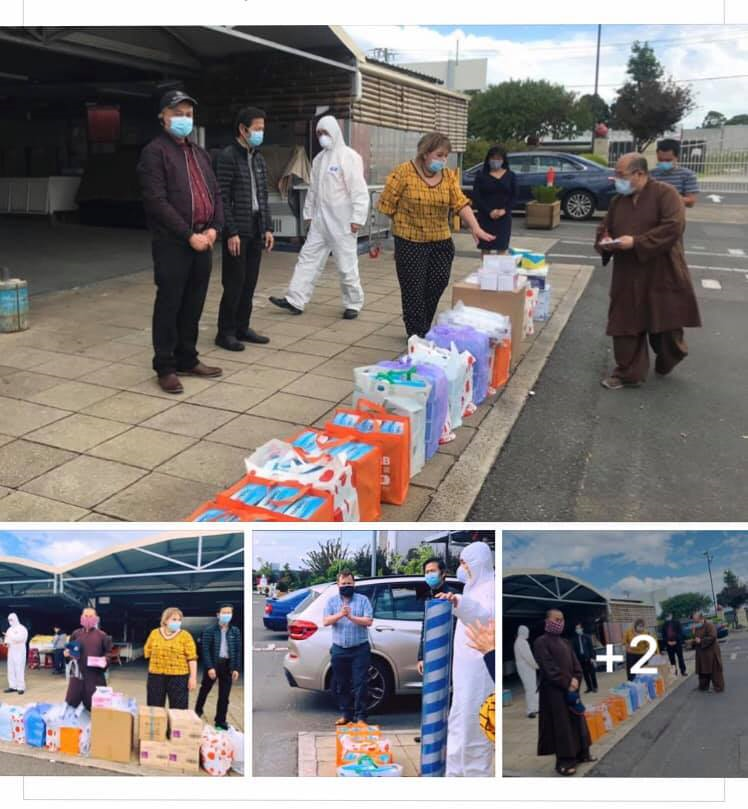 The Vietnamese community donates over 40,000 masks, 15,000 gloves, 100 facial shields  to Australian hospitals in Melbourne
Vietnamese people with Hong Loan garment company and Veducci sewing companies making operating gowns
COVID -19 causes many hospitals and health facilities in Australia, USA and European countries: France, Germany, Italy, UK lack of masks, protective clothing, antiseptic water, and many other medical devices. Understanding this situation, many Vietnamese people all over the world have used their free time to obey the order 'stay at home' to make masks and operating gowns for medical staff and patients in hospitals from the past 3 weeks.
When Japan, South Korea, Hong Kong, Vietnam, China wear masks to prevent epidemics, European countries, America, Australia still leisurely look at masks as strange and advise anyone to get sick and symptoms to wear them.
Screening tests are not enough, but tests can be falsely negative and it is estimated that in the US with over 300 million people, the incidence rate is 1%, about 3 million people will be positive, if they do not wear masks the spread would be so terrible that President Donald Trump made a decision, though it was quite late on April 7, 2020: Whoever has a shawl or mask to cover their mouths for their protection themselves and this time many states will fine 1,000 dollars if they are out public without a mask.
Currently, there are many countries from supporters and mandatory wear masks such as the USA, Austria, Germany, Republic of Sec, China, Japan, Taiwan, South Korea Hong Kong, Vietnam, Singapore, and many other countries, etc.  They have overwhelmed. conservative other  countries 
the 2.3-layer homemade masks frankly make your own, colorful, or more luxurious,
We can use 3 replacement masks daily then wash in hot water and disinfect Blitz then dry and iron instead of a disposable surgical mask for one use.
Hospitals in Australia lack masks, antiseptics, gloves, and gowns (Operating gowns) because the demand is increasing during the pandemic season when demand for Australians is high, the Chinese portion collects from 3 months ago, so Vietnamese people all over the world in general and Australia in particular, have a noble gesture to help sewing Mask and Gown to local hospitals and nursing homes.
Today about 10 representatives from hundreds of people in the Vietnamese community come to Quang Minh pagoda to donate 20,000 sewing masks and surgical masks and the Vietnamese community will make surgical gowns for the hospital.
This gown was modeled after the hospital and provided cloth from medical light spot company for medical doctors and hospital nurses to directly care for patients in the department of infection and ICU.
Mr. Danny Crabb, representing the Western hospitals, greatly appreciated the kindness of the Vietnamese people.
It is worth mentioning that the Vietnamese community has supported Sunshine Hospital and Joan Kirner Hospital for more than half-million dollars over the past two years until today the Vietnamese community has supported over 40,000 self-made masks. surgical masks, N95 masks and 15,000 gloves,100 Facial shields.
Next week we will focus on sewing more than 2000 operating gowns for ICU and Emergency department.
We wish you all the peace in this pandemic virus.
See you again.
Doctor Pham Phuc Nhan