HAPPY NEW YEAR 2021
Dear benefactors and sponsors. 
In the past year, responding to the call of the United Vietnamese Buddhist Congregation of Australia and New Zealand, the Vietnamese community in Australia in general and Victoria said that they have contributed continuously meaningful work together for the Australian Government and Vietnamese the community. Review 4 meaningful jobs last year.
 1 / The Opening Ceremony of the United Vietnamese Buddhist Congregation of Australia- New Zealand (An Quang Temple) with a cost of 7 million dollars in 2 years calling. More than 5000 Buddhist compatriots and different ethnic groups attended, many people just came to visit and did not have lunch, but they were very happy and made an appointment to return ... enjoy visiting wonderful works like Dai Hung Bao Dien. An Quang, multi-purpose hall, Pho Mon Stupa, Hoa Vien Quan Am and Long Tho resort.
 2 / Bush Fire Appeal From January 2020 through 3 months calling on Victoria's temples and Tết festivals ,Vietnamese compatriots have contributed $ 355,000 dollars for bush wild fires in Australia. January 20, 2020 Donate Blaze Aid for rural rehabilitation of Melbourne On 19/01/2020 just made a round trip from Melbourne to Bairnsdale, East Gippsland. It is an honor to join Venerable Thich Phuoc Tan, Chua Quang Minh's Head, to hand over the Brigade CFA Bairnsdale and CFA District 11 Headquarters. January 20, 2020. Places to visit; Lavington, NSW donated February 15, 2020 Awarded to key staff members; Firefighters at the NSW Rural Fire Service Center.
3 /Masks for Covid-19 Pandemic March 2020, from the 1st epidemic of Covid 19 pandemic to the 2nd outbreak in June, the Vietnamese Community donated over 400,000 masks, 150,000 gloves, 20,000 plastic masks, and 5000 operating gowns (total cost over $250,000 dollars) to Sunshine Melbourne Hospital and distributing to entire communities in Victoria and other states and Distributing thousands of donated lunches to hospitals in the west of Melbourne.
 4 / Flooding Appeal for Mid Central Vietnam. Last October, the the United Vietnamese Buddhist Congregation of Australia - New Zealand called for the aid of 8 central provinces of Vietnam for historic floods with the amount of money raised over $160,000 dollars for the relief fund for the people of Central Vietnam in these floods. The the United Vietnamese Buddhist Congregation of Australia - New Zealand has contacted our Vietnamese Monks and Nuns who have been and will continue to aid over 10,000 victims Pay special attention to building 40 floating houses for people to prevent storms in the long term in the future.
 In the coming new year, I would like to wish the monks and nuns of the Dharma contemptuously bless the ordination, good health, achieved wisdom , the completed  Buddha's membership We would like to wish all benefactors and esteemed guests all the best wishes of happiness, longevity, good health, prosperity, Together, contribute to a prosperous country Uc Chau, worthy of Vietnamese proverb : Remember the source when drinking water, remembering the source , when eating fruit , remembering fruit grower .
Thanks
Kind regards
Doctor Pham Phuc Nhan
Head of Charity and Society of The United Vietnamese Buddhist Cogregation of Australia- New Zealand.
Vice President of Quang Minh Temple
1/11/2020 So far we raised $111,627.08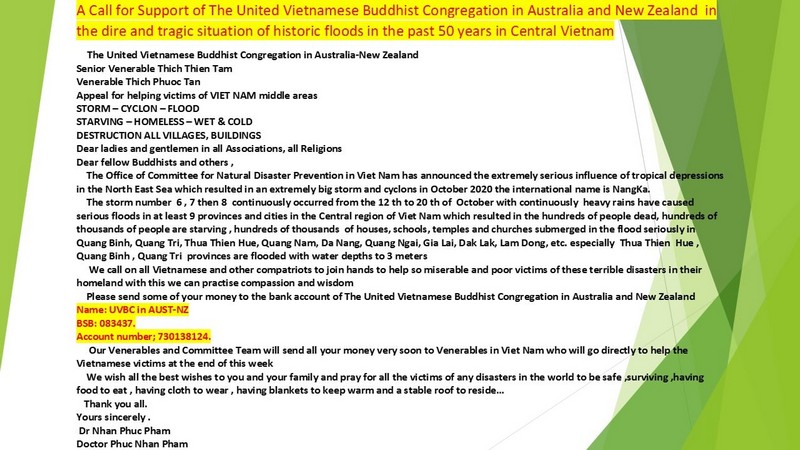 Dear Venerable Monks, and Monks and Nuns, 
Ladies and gentlemen in all associations, 
Dear fellow Buddhists, 
According to the Office of Committee for Natural Disaster Prevention, due to the strong influence of tropical depressions in the North East Sea, the storm has become a storm in 2020 and the international name is NangKa. On October 12 and 13, there would be very heavy rain in the Central region, with a total rainfall of 200-400mm in Quang Tri and Thua Thien Hue provinces, over 500mm in some places, Quang Binh province, and Da. Nang from 100 - 200mm. 
Storm No. 7 with heavy rains caused floods in 9 provinces and cities in the Central region - as of October 12, floods made hundreds of people dead, hundreds of thousands of houses, schools, Buddhict temples and churches submerged in the floods in the 9 central provinces of Vietnam from Quang Binh, Quang Tri, Thua Thien Hue, Quang Nam, Da Nang, Quang Ngai, Gia Lai, Dak Lak, Lam Dong, etc. 
All districts, towns, and cities of Thua Thien Hue province are flooded with water depths from 0.8m to 3m,  many places in the districts of Phong Dien, Quang Dien, Phu Vang, Phu Loc, Huong Tra town, Hue city were deeply flooded. 
The 19 covid pandemics affected over the world affecting over 200 countries, 40 million people affected, killed over 1 million people, Vietnamese people in the countries around the world Europe and America , Australia , Canada  are very fortunate that the Vietnamese in these places have received the help of host countries, but people in Viêt Nam who do not have financial support in the pandemic now add to the flood disaster. 
Therefore, the situation of people in the Central region of Viet Nam has become more and more miserable that we cannot describe in any way. 
With this situation, President  Venerable Thich Thien Tam and  Vice President Venerable Thich Phuoc Tan of The United Vietnamese Buddhist Congregation in Australia and New Zealand launched emergency relief during this period and They called on all Vietnamese compatriots and Buddhists to join hands to help poor people in their homeland to follow the word of Compassion of the Buddha. 
In Vietnam, we have a saying:
 Gourd love to take the same pumpkin, although it is different but the same platform. 
Precious things cover the mirror that people in a country have to love each other. 
When a horse gets sick, the herd do not eat grass. 
In this isolated situation of Pandemic, please send your money  to the temples and monasteries, or bank book: 
Name: UVBC in AUST-NZ 
BSB: 083437. 
Account number; 730138124. 
After that, the Teachers will send all money the Vietnamese side to help the person in person. 
Please pray together for all the Dharma monks and nuns to contemptuously good spirit, excellent wisdom, the good health, and the Buddha's enlightenment, 
May all fellow Buddhists enjoy the blessings of the pandemic season under the aura of the Buddhas'brilliants 
Thank you all. 
Sincerely. 
Doctor Phuc Nhan Pham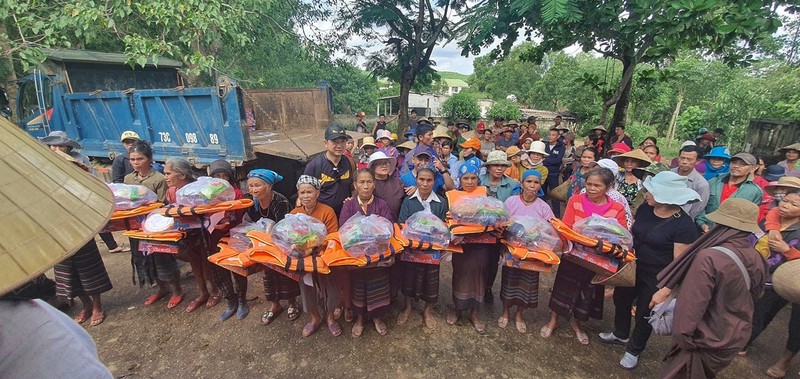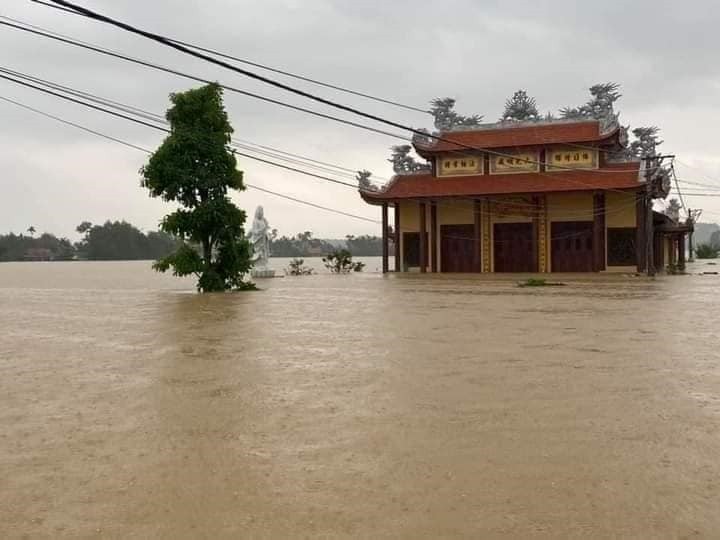 Dear Friends,

Through the appeal of Venerable Thich Phuoc Tan of Quang Minh 's temple in March, hundreds of benefactors representing the Vietnamese community came to Quang Minh pagoda as well as straight to the hospital.have donated  200,000 dollars including 120,000 masks, 50,000 gloves, 5,000 masks, 2,000 operating gowns, and 3,000 dollars and hundreds of lunches have been donated to western Melbourne hospitals.

When the second pandemic has broken out,in Melbourne we called for a second donation of a mask to all comunity, we now know that our compatriots in Melbourne are carrying out about 25,000 reused sewing masks and are distributing to all the people in need throughout the subcommittee in Melbourne.. .
Particularly compatriots in other subcommittees and in Vietnam also sent 40,000 masks and surgery to Melbourne.
and according to the list below, has been distributed to all unions, pagodas and churches in the last 24 hours.
Sincerely thank the volunteers who have actively worked in the past 2 days.

This week, there will be an additional 40,000 masks from Vietnam , we will be distributing the second  log (there will be announcements when we get them)
Please register in advance and we will arrange for distribution at Quang Minh Pagoda.
First of all, we would like to ask your need to put on the waiting list so that we can arrange for a reasonable distribution by email address or phone number of Quang Minh pagoda 93125729.
Doctor Nhan: 0411505948.
Thanks.
Kind regards,


Ladies and Gentlemen,
After calling Mask for Melbourne we would like to report to you all the following results:
Thank you for your sincere contribution to the sponsors:
1/ Gia đình Anh Cử , Chị Hoa ,Cháu Ngoc: 20,000 masks trong số 50,000 masks.
2/ Thầy Hoằng Kiện và nhóm phật tử Việt nam: 19,000 masks trong số 30,000 masks.
3/ Bác sĩ Nhân – Thư: 3,000 dollars.
4/ Chị Hoang Phương Thảo: 3,000 dollars.
5/ Chi Lâm Minh Hoa: 6,000 dollars.
6/ Nhóm Chị Kim Thanh: 3,000 dollars.
7/ Nhóm Chị Huỳnh Phượng: 25,000 masks.
8/ Chị Cao Thị Mỹ: 10,000 masks.
9/ Lê Ngọc Điệp: 200 dollars
10/Nhóm Nguyễn Hương, Rose Hùynh, Rose Huỳnh, Thúy Trần, Nichau: 2,500 mask 11/ Rất nhiều vị ẩn danh
The distribution of first round to pre-booked recipient:
1/ Ông Trương Lợi 2,000 masks.
2/ Thiên Giang 1,000 masks.
3/ Chùa Phước Huệ 1,000 masksvà 20 facial shields.
4/ Thiên Giang 1,000 masks.
5/ Hội Golf Victoria 3,000 masks.
6/ Phượng Vĩ 5,000 masks.
7/ Chi Vân anh Tài 1,000 masks.
8/ Văn phòng các bác sĩ 2,000 masks
9/ Nguyen Nhung 1,000 masks.
10/ Các Hôi đòan Chùa, nhà Thờ 20,000 masks
Read more ...
How to make a mask to wear during the coronavirus pandemic as Victoria battles to contain COVID-19 outbreak
Authorities have told residents of Metropolitan Melbourne and Mitchell Shire that if they can't keep 1.5 metres from people in the coming weeks, they should wear a mask.
Premier Daniel Andrews has also flagged that when the six-week lockdown ends, wearing masks will remain an "important feature" in Victoria's response to the pandemic.
Store-bought cloth or surgical masks are an option but there is also the satisfaction which can come from making your own.
So, how do you do that? Here are some tips.
Coronavirus live news: Follow all the latest information in our blog.
What equipment do I need to make a mask?
Some material — cotton is preferable and make sure there is enough to create several layers about 25cm x 15cm each
The Victorian Government recommends three pieces of fabric: water resistant for the outer layer, blended for the middle layer, and a water absorbing cotton fabric for the inner layer
A sewing machine. Or a needle and thread if you've got the time and skills
Some elastic, or extra material for ties to keep the mask in place
Patience
Now, how do I actually make it?
Victoria's Department of Health and Human Services (DHHS) has instructions on how to make masks here, and recommends you follow this process:
1.Cut out three different layers of fabric (see recommended fabric types above) in 25x15cm rectangles
2.Stack them neatly in the correct order and fold down one edge of the long side of fabric to create a seam of 1cm
3.Stitch down the folded long side. Repeat step two and three for the opposite edge on the long side
4.Fold the short sides over to create a seam and stitch that way too (make sure there's room to thread your elastic or ties through)
5.Run your elastic or fabric tie through the hem you've created
6.Knot the ends of your elastic tightly
Victorian Premier Daniel Andrews has asked Melburnians to wear masks in public when they can't social distance, in a major shift in health policy in the state and across Australia.